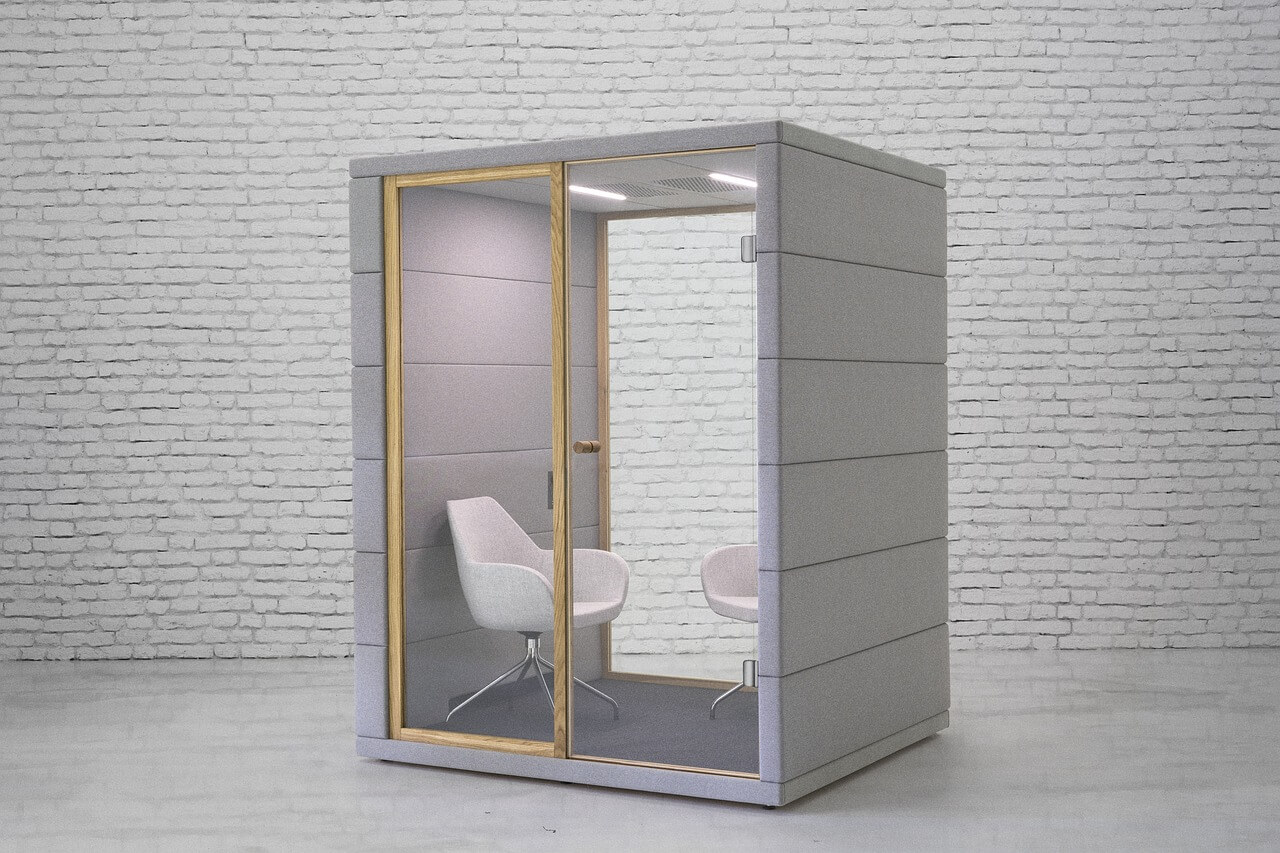 Soundproof Cabins – Silence In The Office?
Modern offices are often based on open spacesor so-called open spaces. While they allow maximum use of the available space, they only sometimes have a good effect on employee efficiency. It's not hard to imagine what noise can be like in a room where a dozen or even dozens of people are working. What to do when silence and focus are essential at a given moment? An acoustic cubicle is a solution.
Open space – advantages and disadvantages.
Certainly, open space provides good contact with other employees. After all, we often sit desk literally at a desk with them. Communication in such conditions is relatively easy, as is saving money on office rent.
Unfortunately, such a layout is not free of disadvantagesand has quite a few. First of all, open space means less privacy. Not everyone is comfortable in an environment where a co-worker is looking over their shoulder.
 While this can be dealt with, excessive noise can effectively impede your ability to focus on your work. And what to do when you have an important hangout with a client? Or when you need to prepare for a business meeting? In such a situation, you can go to an acoustic booth. 
Acoustic cabin for the office – the solution to noise.
What it is. The solution to noise in the offia ce can be a soundproof meeting pod. Soundproof meeting pod takes the form of a small booth that is made of soundproof materials. However, you can forget the association with the traditional telephone booth you remember from the 1990s. 
The soundproof booth is characterized by modern design and comfort. It usually features a one-person workstation consisting of a laptop table and a chair. The booth also has ventilation and lighting, as well as a multiport. 
This is where you can calmly and without outside noise, converse with a client (by phone or video) or prepare for an important meeting. 
Mini Meeting Rooms 
Soundproof meeting pods come in the form of meeting rooms. A lot depends on their size, but they can usually accommodate from 2 to even 5 people! According to statistics, up to 80% of business meetings are held with up to four people
 Is this enough? And if so, a mini-conference room will be an ideal choice. You will find comfortable couches, chairs, and even a table inside it. Everything you need to host a business meeting.
Soundproof meeting pods for the office – is it worth it?
Soundproof meeting pod for the office, in some cases, seems even mandatory. It will come in han,dy, especially in the already mentioned open spaces, where there is often noise. Such a solution will allow you to work comfortably and may even increase the efficiency of your employees. 
These are just some of the advantages of acoustic booths. You need to know that their design is beautiful, and there is also the possibility of matching them to the style of a given office. Such a solution is provided by Spoty System, which offers acoustic booths in several variants. You can choose their colors and material construction and even decide to brand them.